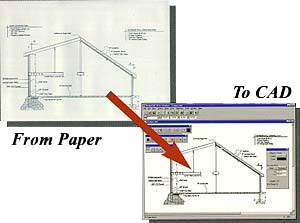 Our Drawing Conversion Service offers comprehensive CAD conversion services to architectural firms, engineers and construction offices. Whatever format you have, we can meet your mechanical, architectural, civil and structural engineering needs.
At Trukmann's you are working with a team that has extensive experience with a range of different formats and file types. Our services include:
Paper to CAD Conversion (Legacy Paper Drawings)
Image to CAD Conversion
PDF to CAD Conversion
DWG to DGN / DGN to DWG Conversion
Any file format to desired output
Get a Quote!