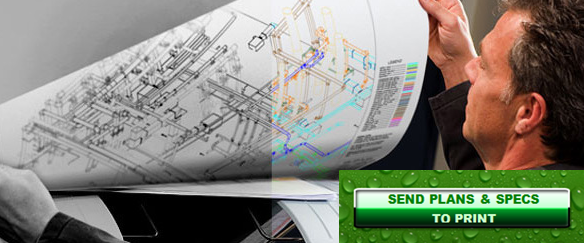 AEC Reprographics Services
Trukmann's Reprographics is in our 7th decade providing the latest and most comprehensive technology in the reproduction of Architectural, Engineering, and Construction plans and specifications.
We provide you with high-speed, crisp imaging onto a variety of media. With our state of the art digital reprographic systems, we can scan your originals or produce copies from your computer files. We are the trusted name in digital plans and specs delivering. You can call on us to print anywhere in North America in just a few clicks.
High-speed plan copying and plotting in black and white and full color
Reflective and digital specification printing and binding in any quantity
Digital Color printing for brochures and proposals
Large format graphic color and mounting and laminating for presentations and trade shows
Construction site signage
Engineering plotters, copiers, paper, ink and toner
24/7 secure access to our Cloud-based Planroom 
Reduction & enlargement, mirror imaging, positive and negative reversal 
Packaging and distribution to one or many destinations 
Drawing conversion of hard copy originals to CAD
Raster scanning of hard copy documents to CD, DVD or WEB archive