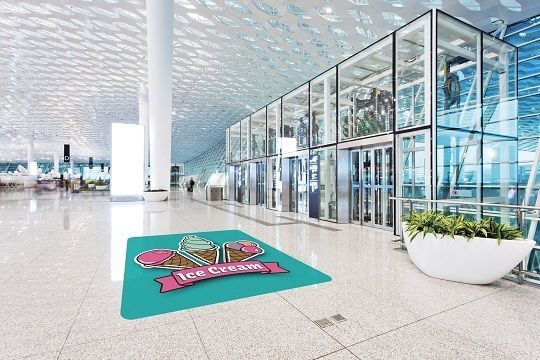 Custom Retail and POP Floor Graphics
Custom Retail and POP floor graphics and decals offer a innovative way to display your brand or logo ad.
Floor graphic decals can have square corners or custom cut to any contour and may be used for wayfinding, for example in retail stores or sports arenas to direct traffic or promote a special event. Floor advertising can be used to supplement other forms of signage and branding to provide a complete advertising package. 
Retail POP Floor Graphics and Floor Ads in stores have been shown to increase retail product sales 25% – 30% and are ideal for:
Grocery Stores & Convenience Stores.
Restaurants & Fast Food locations.
Sports Arenas & Entertainment Venues.
Theater and Stage Companies
Wine and Spirits Industry
Casinos and Gaming
Hotels and Lodging
Record and Music Industry
Retail Stores and Shops
For additional information, call 973-538-7718 or fill out the form below and submit.
Request a Quote or Additional Information